Description
Sleep deeper, calmer on our plush CBD-infused hybrid mattress.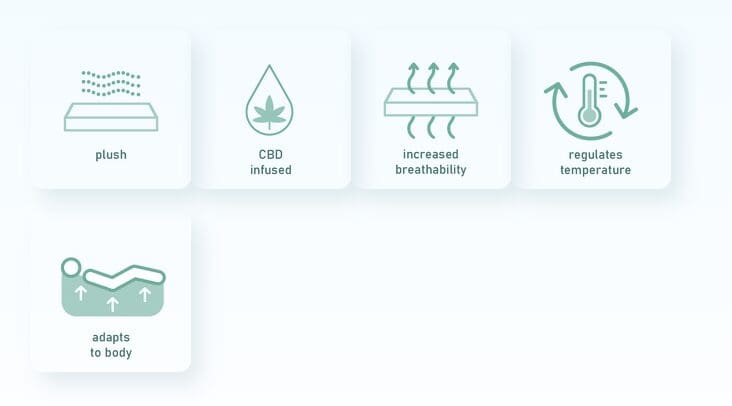 CBD Infused Foam + Fabric Quilted Cover
With a very soft-to-the-touch feel and the important ability to let air flow easily, this fabric offers comfort, function, and durability. Its interlaced threads throughout the cover move with you to reduce bunching and create natural air gaps for breathability.
Gel AeroFusion™ Memory Foam
This memory foam is generously infused with a cooling gel. It keeps all of the positive properties of memory foam, like contouring and conforming to the sleeper, while mitigating temperature issues with the gel infusion.
This specialty foam is engineered to be open cell for breathability with all the rebound and firm support of latex while being allergy-free. Previously labeled as Smart Foam, the properties of this foam offer great air flow and premium comfort.
This foam is often used as part of our base support top layer to seal in our Individually Pocketed Spring system in our Hybrid lines. This foam is flexible and durable, allowing for the other more specialized foams above it to shine while it supports from below.
Hybrid Base Foam with 7-Zoned Individually Pocketed Springs
We alternate the Individually Pocketed Springs into seven separate zones with different support levels to match the different areas of the body. This offers better support in the areas that carry your weight while still conforming in the areas where more pressure is needed.